21-Day Career Catalyst
...for INFJs/INFPs/ENFJs/ENFPs+
Finally get clear on the purposeful, fulfilling career or biz you seek without getting stuck in choice paralysis or trapped in soul-crushing jobs, so you can make the difference you were born to make!
Ready to live your purpose?
21-Day Career Catalyst for INFJs/INFPs/ENFJs/ENFPs+
Finally get clear on the purposeful, fulfilling career or biz you seek without getting stuck in choice paralysis or trapped in soul-crushing jobs, so you can make the difference you were born to make!
Ready to step into your purpose?
I know you're not just after a Job
What you want is bigger.
You want to find, breath, and live your purpose.
You want to use your unique gifts to do work that is meaningful and impactful.
And you want the freedom to create and express yourself authentically.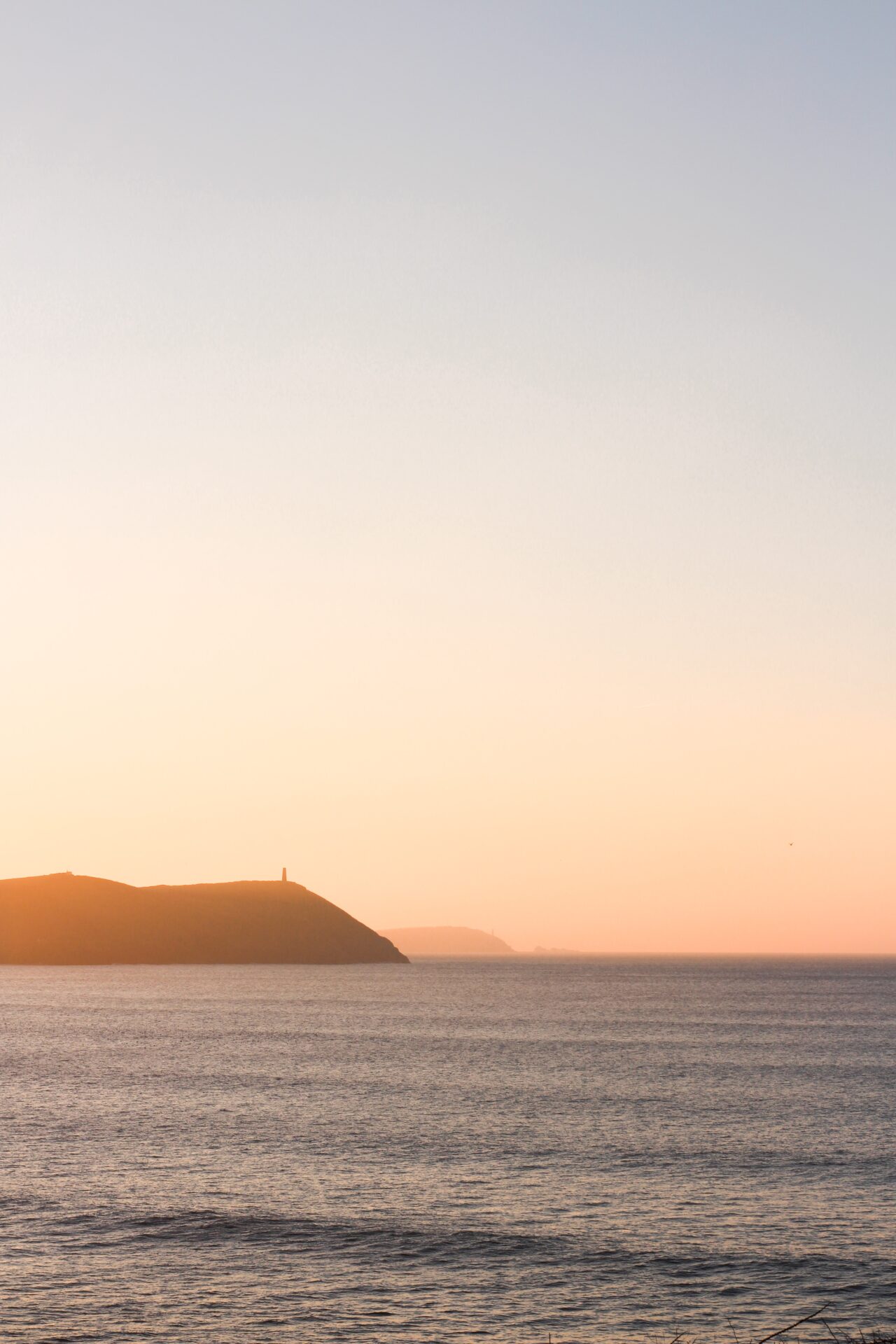 You struggle to find a career path gives you all of these things, leaving you unfulfilled and miserable. 
You often daydream about the many things you could be doing, only to get stuck wondering if this is what you really want and how to even get started.

And so, because you cannot find clear answers to these questions, and are afraid of making the wrong decision, you don't take any action at all, making you even more anxious, because now you feel like you are wasting your life and potential. 
Meanwhile, you end up in jobs that, at best, are "fine" and, at worst, completely soul-crushing. 
And so you slowly burn yourself out and feel as confused and hopeless as ever, reinforcing your belief that you don't fit in anywhere. 
As an INFJ/INFP myself, I know the pain of trying to figure out your purpose and finding a career path that feels truly fulfilling to your heart and soul.
10 years ago, I did a master's in sustainability because I wanted to make a difference. But I ended up in a job that made me so miserable that I had a breakdown. Yikes.
Fortunately, though, it was a huge turning point in my life. I quit my job, reconnected with myself, and figured out how to build a career path that worked for me.
I became a meditation teacher and certified coach, and shortly after decided to start my own business.

Today I do work I absolutely love – helping other purpose-driven free spirits build fulfilling, purposeful careers and businesses that help make the world a better place.
If You Struggle to Find Career Fulfillment As INFJ/INFP/ENFJ/ENFP…
It is likely because…
…you are trying to solve your career challenge like a specialist – feeling like you have to choose and commit to ONE option (sorry, my dear, you are NOT a specialist!)
…you are trying to think your way to the right decision, only to get overwhelmed by the complexity of your ideas and options, causing you to end up in a state of choice/analysis paralysis
…you have bought into the societal belief that you have one single fixed purpose that you need to discover and fulfill, leaving you in a constant state of anxiety looking for your "true" path.
…you believe that your plan/vision first has to make perfect sense before you can take action on it, keeping you stuck in your head and leading to an ever-widening gap between your perceived potential and what your life/career actually looks like (which then makes you feel like a failure and scared of never living up to your true potential).

If any of this resonates with you, I am glad this page has found you.
Because I'm here to help you finally move forward with clarity and confidence in your career and life, so you can make the difference you were born to make.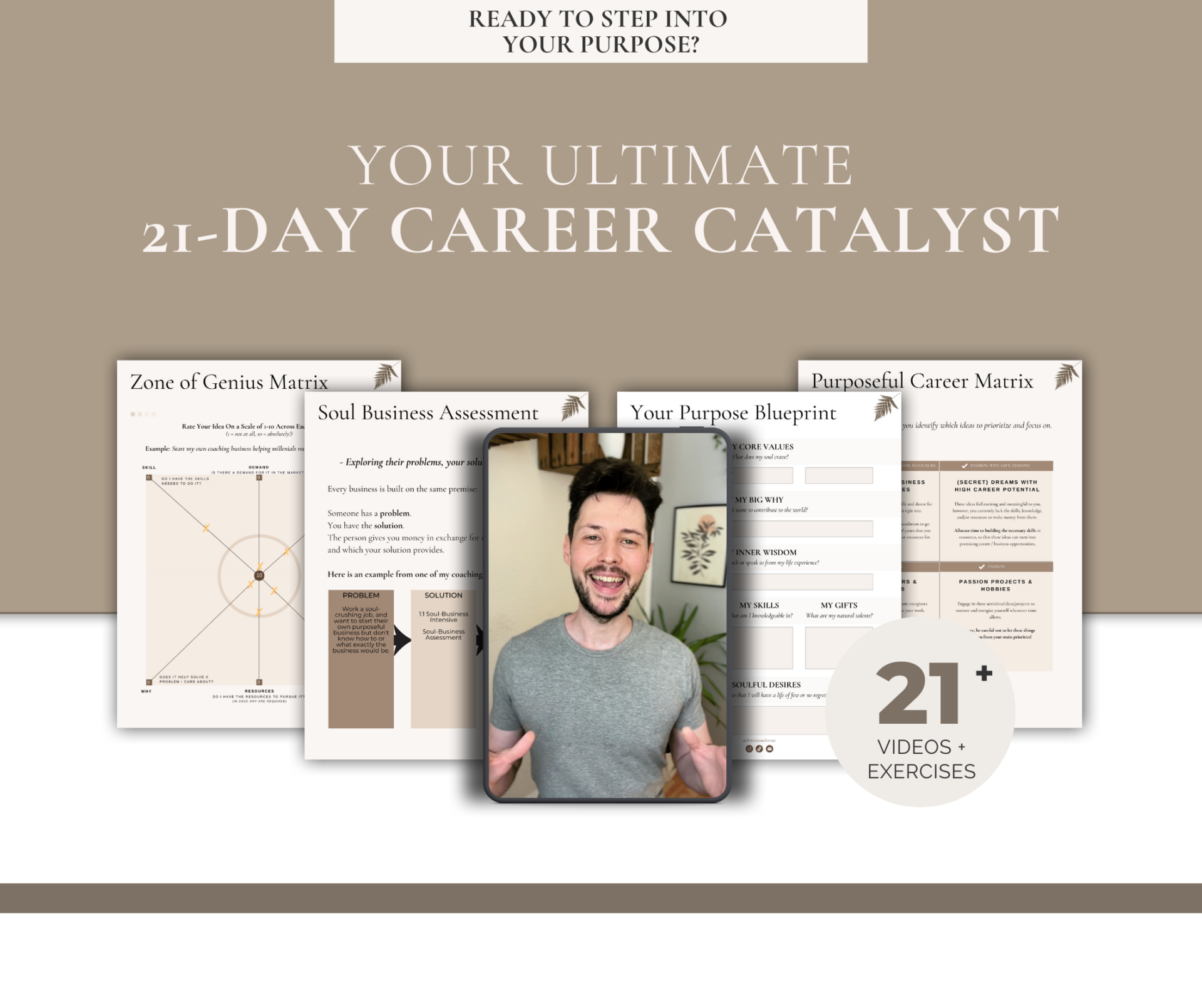 Finally discover how you can find lasting career fulfillment
as an INFJ/INFP/ENFJ/ENFP+
without getting stuck in choice paralysis or trapped in one soul-crushing job after another.
In
21+ videos
&
powerful exercises, I guide you along my 5 key pillars for helping you get clear on your purposeful career/biz idea,
so you can make the difference you were born to make
:
1. Purposeful Grounding
(Days 1-3)
Being the overthinker and mental escape artist you are, you learn how and why it is so important for you to ground yourself to avoid endless daydreaming and start taking more action. You also identify your Inner Purpose so that you no longer outsource your fulfillment to anything external.

2. Purposeful Self-Exploration
(Days 4-11)
You explore your unique genius in a systematic and structured way that honors you for the problem-solving and purpose-driven generalist you are so that you know exactly where to focus your resources and attention. By the end, you possess your personal Purpose Blueprint highlighting who you truly are at your core and what your soul is really longing for.

3. Purposeful Ideation
(Days 12-13)
Inspired by your Purpose Blueprint you tap into your soul's desires and find it easy to identify purposeful career and/or business ideas. Instead of just aimlessly thinking about career paths you could pursue, you are now exploring your true desires with intention and purpose and without feeling like you need to choose.

4. Purposeful Decision-Making
(Days 14-17)
You learn how to organize and prioritize your purposeful ideas, so you know exactly how they can build on each other and which ones to focus on right now.. Finally, you learn how to face your fears and doubts about your new purposeful career vision and make purposeful decisions, using both your mind and heart. Adiós choice paralysis!
5. Purposeful Action
(Days 18-21)
You translate your new purposeful career vision into specific and measurable goals, including clear next steps you feel motivated to take action on. You leave with a crystal clear 30-Day Action Plan that has you moving towards your new purposeful & fulfilling career/biz!
By the end of the 21 days, you possess the clarity, tools and roadmap to make confident career moves that are aligned with your highest vision, mission, and purpose, so y

ou can live your true potential and make the difference you were born to make!
21+ videos & exercises (incl. your Purpose Blueprint, Zone of Genius Matrix, Soul-Business Assessment, Purposeful Career Matrix, 30-Day Purposeful Action Plan + more)  to help you get crystal clear on your purposeful career or biz idea, so you can move forward with confidence and purpose in your life!

Community Support: Become part of a group of like-minded people that support each other to live their purpose. In our Facebook group, you meet other purpose-driven INFJs / INFPs / ENFJs / ENFPs committed to living a purposeful life and you also receive further support from me.

Get lifetime access to the course and its materials, incl. any future updates
14-Day Money Back Guarantee – if you are not happy with it, you get your money back.

Ready to step into your purpose and make the difference you were born to make?
Normally $294, today

To my dear diplomats, I can only recommend this course if you want to go further in your work of introspection and finally gain greater clarity about your inner purpose. It is time to start shining brighter!
It has been a true gift working with Christian! Before I met him, I was playing small and kept doubting myself. Now I finally feel clear on who I'm meant to serve, what my offer is, and how I can run my business in a profitable way that allows me to thrive and make real impact in the world.
– Charlotte, Entrepreneur
Within just a few sessions Christian helped me get out of my habitual thought patterns that had kept me stuck for so long. I finally feel clear about the direction I want to take my life and career in. I am infinitely grateful to Christian's professional and warm guidance.
After each session of working with Christian, I felt clearer. Thank you, Christian, for your calm, warm presence and the clarity I developed about myself and my business as a result of your smart and thought-provoking questions and tools!
– Jule, Yoga Teacher & Coach
"What I found particularly remarkable about Christian was the calmness he radiates. This allowed me to structure myself and find clarity within my decision-making process"
Can I sign up even if I am not an INFJ, INFP, ENFP, or ENFJ?
Yes! As long as you resonate with the words on this page you can totally sign up even if your MBTI personality type is different. There are many other types that are similarly purpose driven with a desire to do meaningful work in the world (e.g. INTP, ISFP, INTJ etc.)
I'd love to start my own thing - can the course help with that?
Yes! What the course can help you with is find clarity about a business idea you'd like to pursue further.
A key part of the self-exploration is dedicated to understanding your unique zone of genius – that sweetspot where your values, skills, gifts, passions, and life experience all intersect and allow you to offer something to the world that not only brings you joy but also provides value to someone else/the world.
That is also the sweetspot around which you can build a purpose driven business, especially a service/knowledge-based business (which is also my expertise as a coach with an online business).
Just to be clear, though, the main focus will be on helping you gain clarity about possible business ideas you'd feel inspired to pursue, and less about the precise strategy and execution of it (only at a top level).
Is there a refund policy?
Yes! I offer a 14-day money-back guarantee, no questions asked.
How much time do I need to invest?
The course has 21 lessons (+ a few bonuses). I recommend you complete one lesson per day (set aside about 30-45 min. per day) but you can of course do it quicker if that's what you prefer! Since you have lifetime access you can complete the course at your own pace and take as much time as you need.